MemVerge MemoryViewer provides information on memory and application usage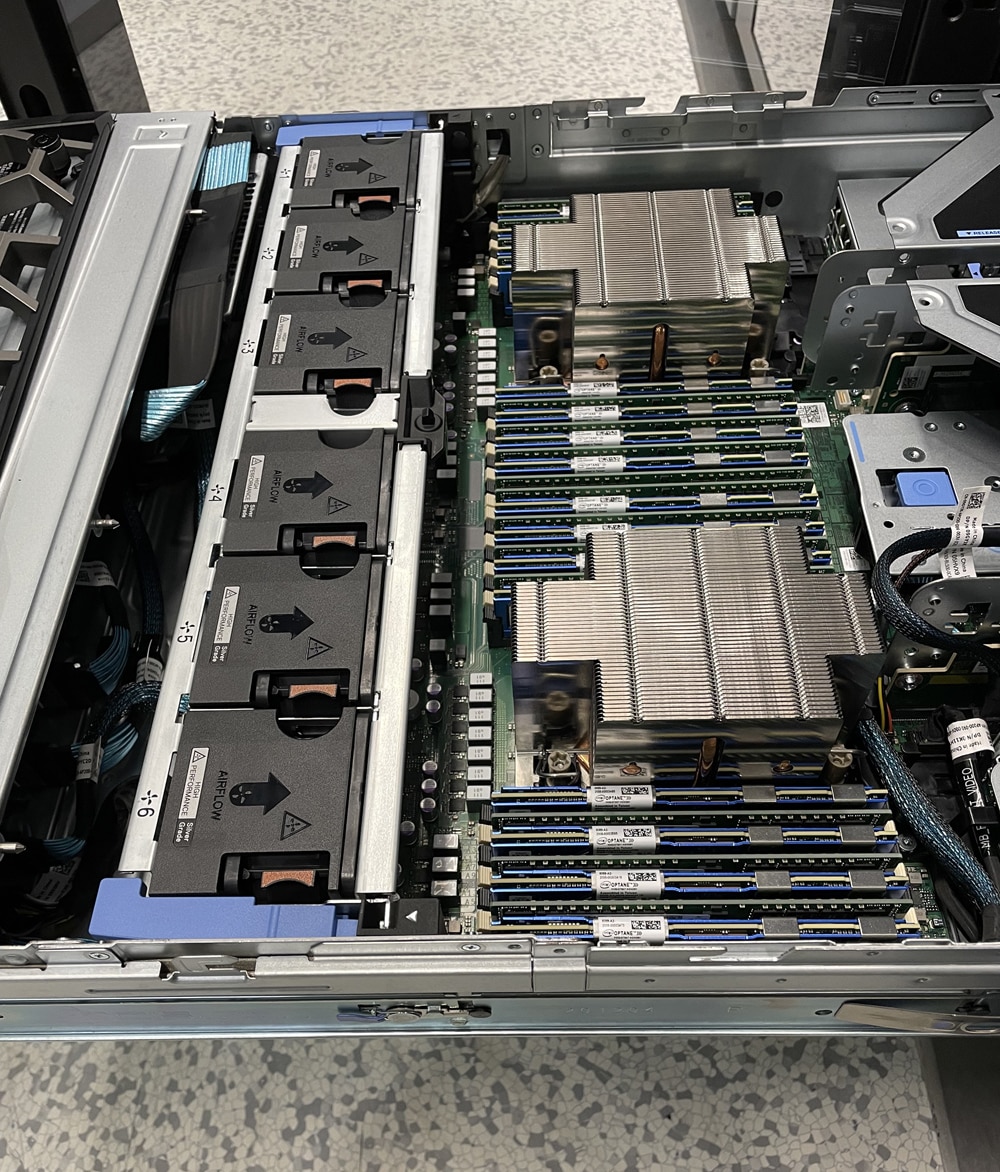 MemVerge has created a software tool that gives system administrators a comprehensive overview of physical memory topology and application memory usage. MemVerge MemoryViewer, with its intuitive graphical interface, provides a real-time view of the memory configuration and bandwidth of each type of memory hardware.
MemVerge has created a software tool that gives system administrators a comprehensive overview of physical memory topology and application memory usage. MemVerge MemoryViewer, with its intuitive graphical interface, provides a real-time view of the memory configuration and bandwidth of each type of memory hardware.
Memory layouts are complicated
Server configurations, memory placement, DIMM layouts, and BIOS configurations have become complex and confusing. Heterogeneous memory hardware, such as Intel Optane PMem, only adds complexity. In the past, memory management was limited to monitoring capacity and usage, leaving performance issues unresolved. Configuring software-defined capacity, performance, and availability has created the need for greater visibility into memory resources.
MemVerge MemoryViewer provides a graphical or textual view of system memory topology and performance to ensure the configuration is optimized for the workload. Many modern applications require systems to be configured for large amounts of memory. Yet, in too many cases, the data being processed uses only a fraction of the memory at any given time, leaving much of the reserved memory unused or "cold".
With memory tiering, cold data can be stored in PMems at a lower cost, reducing hardware costs by 30-40% without impacting application performance. MemoryViewer comes with a graphical memory heatmap that displays memory usage patterns that can alert administrators to misconfiguration and opportunities to optimize memory configurations.
MemoryViewer software for Linux is easy to install, supports both GUI and CLI, and is available in RPM or Debian (DEB) packages. With its intuitive GUI, Linux-based MemVerge MemoryViewer reveals memory performance (DRAM and PMem) in real time.
MemoryViewer displays hot versus cold memory usage of applications so that system administrators can determine the best memory configurations. The workload shown in the MemoryViewer memory heatmap above only occasionally uses allocated memory capacity, making it an ideal candidate for tiered configuration of DRAM and PMem.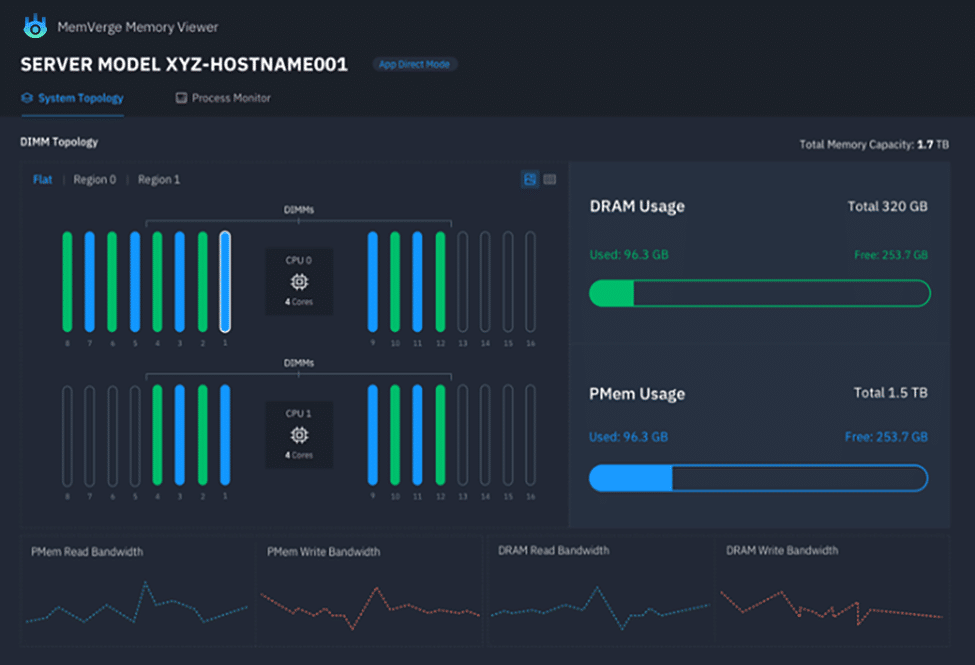 MemoryViewer reveals the physical layout of DIMM slots for each server socket, including where DRAM and PMem DIMM modules are installed. There are strict guidelines for where and how many DRAM and PMem DIMMs can be configured. There are also guidelines for BIOS settings that must be adhered to. MemoryViewer gives system administrators a graphical view to see if the system is configured correctly.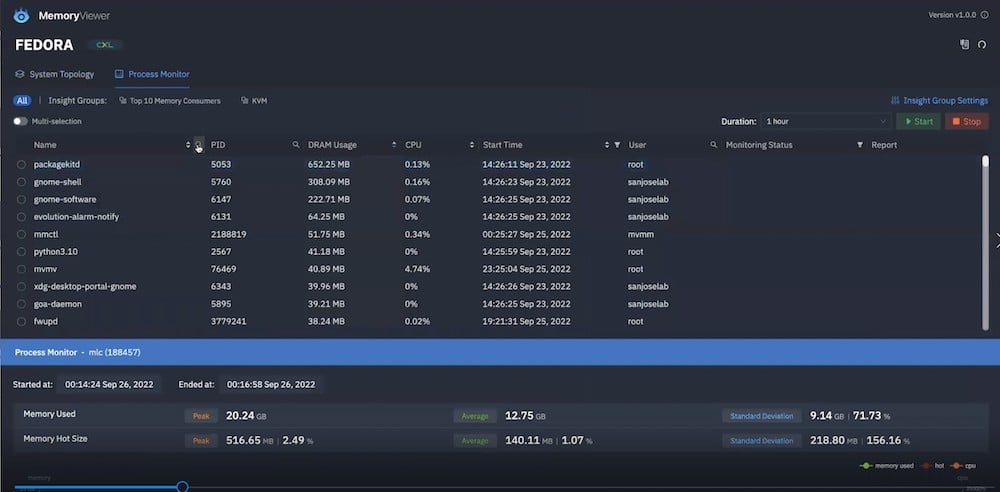 MemoryViewer can be a useful troubleshooting tool with the ability to monitor your system's memory health and usage, compiling a historical record of how applications access memory, including allocation, writing, reading and freeing memory pages. With MemoryViewer, system administrators can correlate CPU utilization with read or write memory access, examine the health status and read-write bandwidth of each module, and view a performance timeline Aggregate PMem and DRAM.
Ready for what's next – CXL
Intel and AMD are set to launch next-generation processors with more cores, DDR5 memory support, and PCIe 5.0 support offering additional processor lanes and Compute Express Link (CXL). CXL changes the dynamics around how DRAM is allocated within a system.
CXL is an emerging market with support from all major processor and memory vendors. For the first time, software beyond the operating system is required for memory management. With CXL, IT professionals need a planning tool to gauge their memory usage. With MemoryViewer, if it shows stuck memory, pooling and sharing memory will increase usage and reduce cost.
CXL 1.1 is shipping in next generation servers from AMD and Intel and there is now even more energy around CXL with the release of the latest CXL 3.0 version announced at the Flash Memory Summit. MemVerge MemoryViewer was developed in anticipation of the impact of CXL.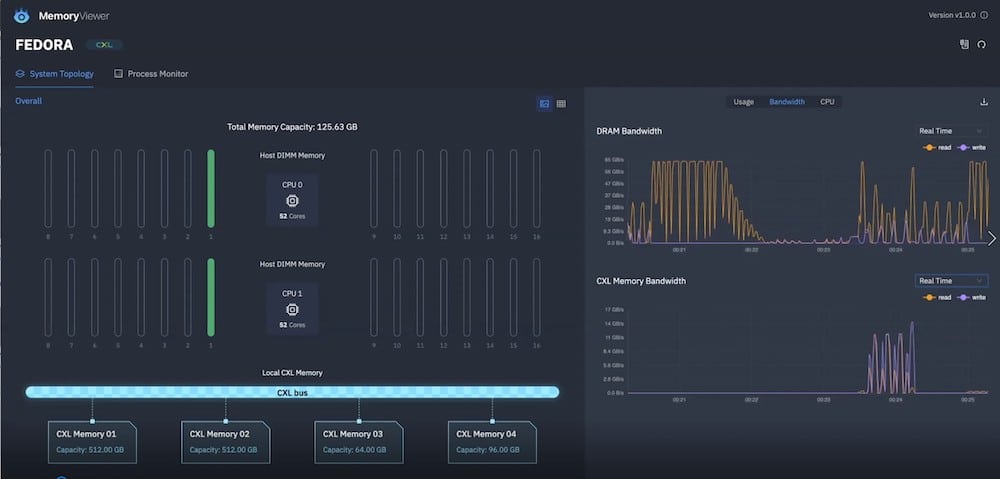 Memory Viewer displays the physical layout of the server. The screenshot above shows two DIMMs and four CXL memory devices, along with the bandwidth of both.
Compute Express Link (CXL) is an open standard interconnect that provides high-bandwidth, low-latency connectivity between host processors and peripherals such as accelerators, buffers, and smart I/O devices. CXL is designed to address high-performance computing workloads by supporting heterogeneous processing and memory systems enabling resource sharing to reduce overall software stack complexity, lower system costs, and deliver superior performance. When CXL is coupled with MemVerge software, it provides pooled memory that is scalable, composable, and available.
The current CXL 2.0 specification brings memory pooling to the PCI-Express 5.0 Peripheral Interconnect, but there is new buzz around the CXL 3.0 specification that has just been released, overlapping the PCI-Express 6.0 interconnect and expected in 2023 offering 2X the bandwidth. Of course, technologists are already looking forward to gaining another 2x the bandwidth that could come with CXL 4.0 and PCI-Express 7.0 expected in 2025.
Final Thoughts
Memory is one of the most expensive components of any server build, but it's also one of the most nebulous to understand. Administrators usually don't know immediately how much memory is being used by applications or if there are zombie applications or processes sapping system performance.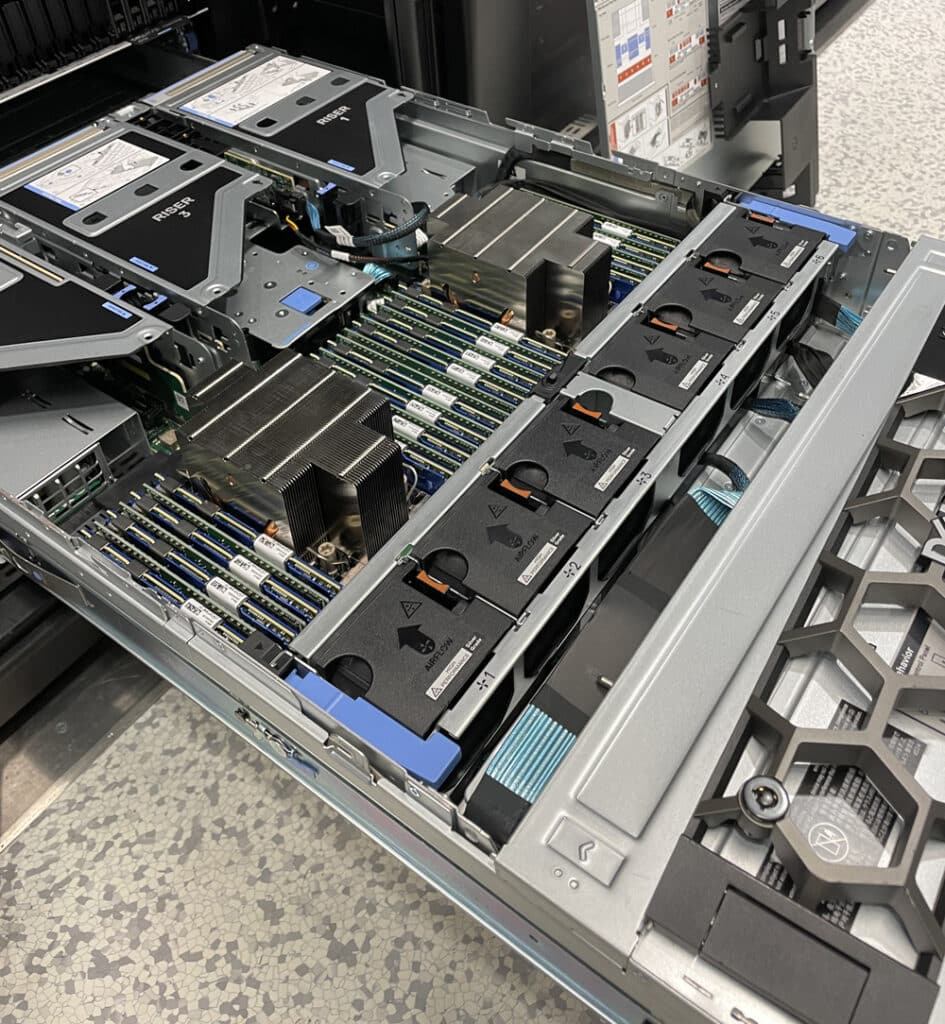 MemVerge's MemoryViewer helps solve problems like this, with not only a ton of information, but a visually appealing GUI to go along with it. Plus, they're ready for the future, with CXL support. CXL is changing the memory game for the first time in decades, so it's important to have visibility into that spending.
MemVerge wants to build "the most advanced memory visualization tool on the planet". So far they have done a very thorough job, with support for DRAM, PMem and CXL. They want community feedback though. If you want to test MemoryViewer in your company, you can take it for free for CentOS 7 & 8, Ubuntu/Debian, or as a container. Be sure to submit your feedback after you start helping with MemoryViewer development.
MemVerge MemoryViewer Product Page
Engage with StorageReview
Newsletter | Youtube | Podcast itunes/Spotify | instagram | Twitter | ICT Tac | RSS feed