NUVITE® Reveals Revolutionary Product Application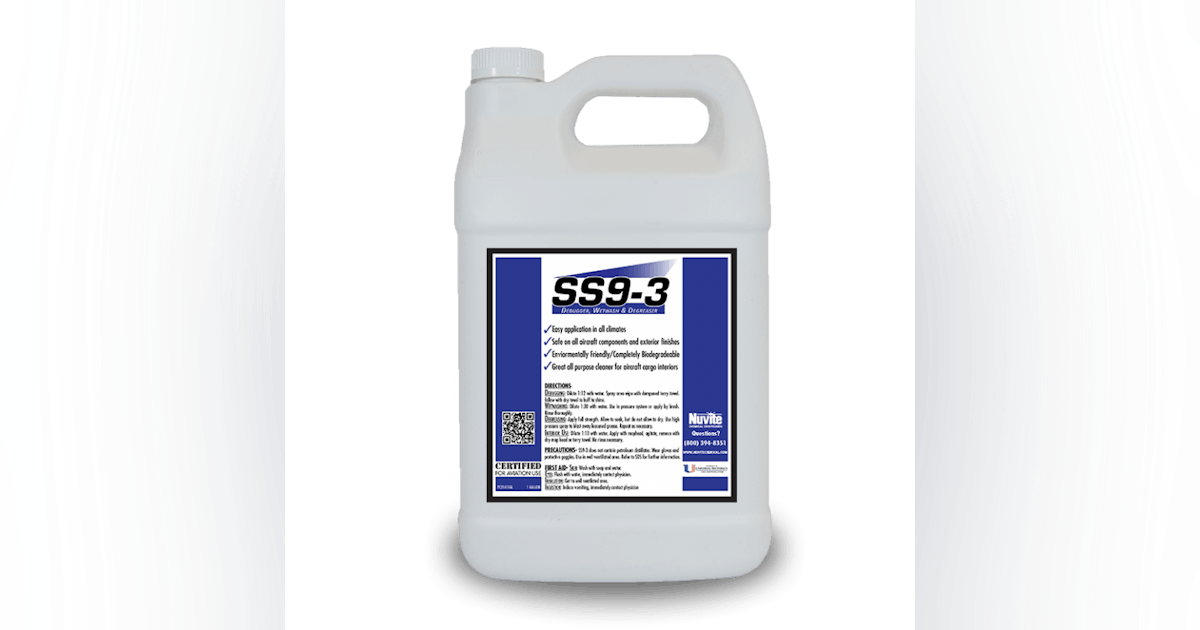 NUVITE Chemical Compounds, a global manufacturer and marketer of appearance maintenance products for over 70 years, continues to meet specific industry needs with SS9-3, WetWash, debugger and degreaser. Formulated for all paint types (matte, satin, gloss), SS9-3 offers a solution for any aircraft.
The SS9-3 meets D AMS 1526C, CSD1 and D6-17487 specifications, certifying use for exterior and general aviation cleaning. Its spray/wipe application is quick, thorough and easy to use, leaving a clear, streak-free transparency without streaking. Its unique formula provides even coverage in sun or shade, removing grease, heavy soils, liquid leaks and more from any paint finish.
The mild alkaline base of SS9-3 is ideal for maintenance care, especially on matte and satin finishes. It has no polymer, no resin, no gloss, and no clearcoat, which doesn't compromise the clean, sleek look of a matte or satin finish. Although developed for the aerospace industry, the SS9-3 is used in a variety of other industries such as automotive, industrial, marine, powersports, rail and trucking.
"Our commitment is to advance polishing technology in all phases of manufacturing," says Radara Elkins, Field Application Engineer at NUVITE Chemical Compounds. "We are able to offer our customers a 'one stop shop' for all of their exterior and interior maintenance needs. This only reinforces our commitment to providing our customers with the most reliable and accurate service available. »