Residents of Anegada will hone their skills in commercial land application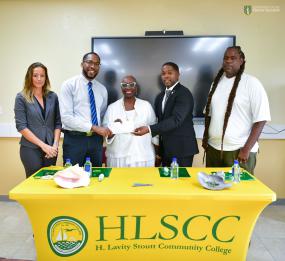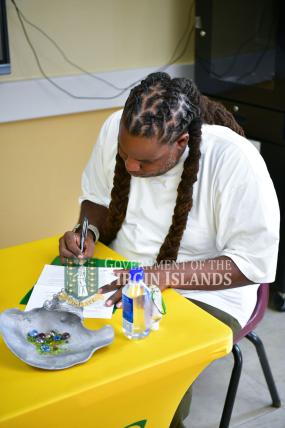 Residents of Anegada will hone their skills in developing business plans and draft applications for future commercial land use at a workshop in November.
The need for the workshop was identified by the Ministry of Natural Resources and Labor in conjunction with Hamilton Lavity Stoutt Community College (HLSCC), Unite BVI and the Anegada Advisory Lands Committee (AALC). The exercise should contribute to the continued implementation of the Commission of Inquiry's recommendation B30 which speaks to the comprehensive review of Crown land disposition processes to ensure that these dispositions are subject to an open and transparent process.
The Minister of Natural Resources and Labor, the Honorable Melvin Turnbull, said he was grateful to be part of the collaboration with stakeholders, adding that workshops of this nature can benefit other communities. "What is important in the relationship is the decision to take a calculated risk, many companies lack business plans, so this workshop can help them manage the business they are getting into, as well as to make sure businesses are running as best they can I think it's a tool that can continue across the community as we start with Anegada it's probably something that can be expanded to benefit to the entire BVI community.
HLSCC President, Dr. Richard Georges, expressed his thanks to the Dean of Workforce at the Professional Development Center, Ms. Véronique Forbes-King for organizing and designing the session, stating that she recruited the faculty, developed the proposal and budget for the next exercise."
Unite BVI Executive Director Dr Sauda Smith said her organization was delighted to collaborate on the upcoming event.
Dr Smith said: 'When Mr Ruan wrote to the ministry and the HLSCC, Unite BVI was asked if there was a way they could help, and my colleagues said this idea was ideal mixing the entrepreneurship and education. I want to thank Kim Takeuchi for her vision of how this fits into our vision and purpose and I'm happy to work with our partners here to ensure the people of Anegada have the resources they need to run their businesses with the skills they need to advance. »
Chairman of the Anegada Lands Advisory Committee, Mr. Darrell Ruan Jr., said the need for residents to learn how to create business plans arose as the AALC conducted its application submission initiative. .
Mr Ruan Jr said, "We realized that many residents did not have business plans and they did not know how to prepare business plans, so what was done was to go back to the ministry and think together to find the workshop where we can fill this gap that was in the application process. I am happy and happy to see the result of this workshop for my people.
The Ministry of Natural Resources and Labor continues to effectively manage and administer the territory's natural resources in a manner that ensures their long-term sustainability.